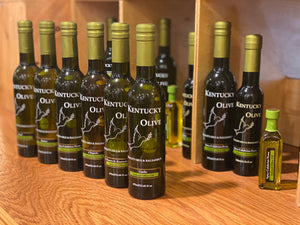 Premium Olive OIl
Balsamic Vinegar
Custom 20 oz Mugs
Our New Location
Unique Gift Ideas for Christmas at Kentucky Olive
Kentucky Olive is so much more than 50 flavors of olive oil and balsamic vinegar. 
We're thankful that so many of you have stopped by to create your unique gifts!
Please help us out by bringing your friends to show them what we can do for them also. 

The ever popular tees, raglans and sweatshirts with our custom Boone County design have been restocked!  Get your size while we have it.

New Christmas Ornaments are here, stop by today and check them out. 
We are happy to help you create those unique gifts this season or anytime of the year. 
Our hand made KY shaped baskets work great to create that unique Kentucky Gift.

Gifts sets pre-made for every budget so you can just grab & go
or let us help you create a unique perfect gift!

A Kentucky favorite, Ruth Hunt Bourbon Balls, Assorted Chocolates, Derbies,
KY Stick Candy, Pretzel Pieces, Cream Candy and more are back in stock!

With over 24 different Kentucky & near by artisans in our store,
we've got the perfect gift!  
We love to help our customers create beautiful, custom gifts.

Thank you so much for supporting our small business and shopping small!
We hope to see you in the store this holiday season!
Tom and Tonia, 
Local owner of Kentucky Olive.

Store Hours
Tuesday - Saturday 11a - 6:30pm
Sunday, Monday - Closed
8460 US HWY 42 Suite D at the corner of Hopeful Church Rd.
Stay tuned, follow us on Facebook and Instagram for the latest information.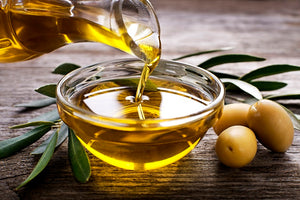 Taste the difference of quality olive oil and balsamic vinegar.

Thank you for Shoping Local this season and year round.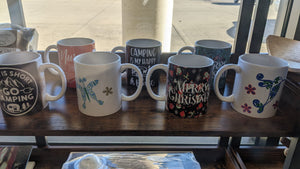 Custom Mugs
Our newest item is our custom mugs. Created just for you by Tonia.
She loves making new designs.
Online Ordering is available on all our products!
Online options are being added but in the meantime, we are happy to put together your order.
Do you see something on our product page or one of our posts on Facebook or Instagram?
We are happy to ship items if you can't make it to the store.
Just email us at KYOliveLLC@gmail.com
Let us know what your are interested in and we will work it out.
Follow us on Facebook or Instagram for pictures of new products.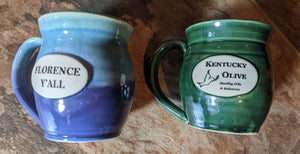 Redefining The Way You Cook
Our Commitment and goal is to offer the highest quality oils and vinegars for your meals.

We have about 50 different flavors of premium oils and balsamic vinegar to best fit your taste!
Along with oils and vinegar, we offer many small artisan batch KY Proud products as well as from across the United States.  We carry local raw honey and bee pollen, candles, wax melts, CBD extract and bath fiz, goat milk soap and lotions, seasonings and rubs, Ruth Hunt Candy and treats, handmade pottery, hot sauces, cheese stuffed olives, and many more.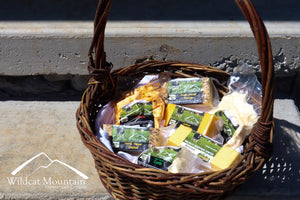 Wildcat Mountain Cheese
KY Mountain Coffee
Testimonials
Fantastic store with many varieties of olive oils and spices. Put some flavor and zing to your cooking."

Tom P.
Their products are of the highest quality and best tasting. Great knowledgeable and friendly staff."

William M.
I love ️ your Balsamic Fig best and the Raspberry. And your olive oils are scrumptious.

Judith D.
Great place, Great people, Highly Recommend

Joshua C